Available Now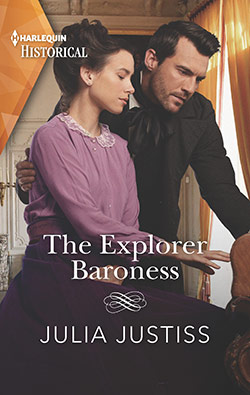 He's the wealthiest nobleman
She's a risk to his reputation!
Gregory Lattimer is well aware Charis Dunnfield is not the Society bride this Baron's son needs to restore his family's tarnished reputation. She is scandalizing the ton—living mostly in Constantinople and running her father's antiquities business. Gregory must settle for her friendship instead—and her help vetting other potential brides for him—until she voyages east again. But will any debutante match up to Charis?
---
"On all accounts, THE EXPLORER BARONESS is a wonderful way to wrap up the Heirs in Waiting trilogy."
~Sandra Martin, Fresh Fiction
"The romance between Charis and Gregory is warm and filled with yearning, and paces itself beautifully. I loved watching them figure out how to strike a balance between freedom and commitment."
~Lisa Fernandes, All About Romance
---
The Heirs in Waiting.
Three Oxford friends with stellar destinies ...three men who mold the present as they await a future of wealth and prestige.
Waiting in the wings is never easy, whether one carries the responsibilities without the authority, or is shut out and must find one's own way. But forging ahead on one's own means encountering exceptional women who would never be found at a ton ball...
BOOK THREE: THE EXPLORER BARONESS - NOVEMBER 2021
Gregory Lattimar is heir to Baron Lattimar (and brother to Pru and Temper, from A MOST UNSUITABLE MATCH and THE EARL'S INCONVENIENT WIFE.) Since leaving Oxford, Gregory has had to take over the running of the Lattimar estates, a job his reclusive collector father has simply ignores. Checking up on the sources of the antiquities the baron spends vast sums on, Gregory encounters Charis Dunford, the free-spirited daughter of an adventurer who travels the world, selling in a small London shop some of objects he collects in order to fund his journeys. Gregory expects to encounter, if not deference, at least cooperation from the lady who runs the shop—certainly not a dressing down for his ignorance about the treasures her father discovers. Committed to restoring a family reputation already tarnished by his notorious mother and his unconventional sisters, Gregory has pledged to marry an eminently proper Society maiden. The last thing he needs is to find himself captivated by a shopkeeper...
Works in Progress
With the final book in the HEIRS IN WAITING series completed, Julia is working on ideas for her next trilogy.
---
All Books
---
Books by Series
The Heirs in Waiting Series
---
The Cinderella Spinsters Series
---
Sisters of Scandal Series
---
Hadley's Hellions Series
---
Ransleigh Rogues Series
Four cousins, best friends through childhood and university, whose destinies are forever altered by war and the love of one remarkable woman…"Magnificent Max", "Wagering Will", "Ingenious Alastair" and "Dandy Dom"
---
The Wellingfords Series
---
Regency Silk and Scandal Series