Available Now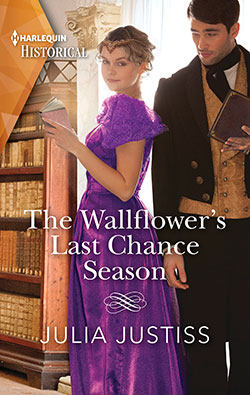 A fun foray into the London Season
Enter this 1830s London season full of fun and flirtation
Has the reluctant wallflower…
finally met her match?
When impoverished vicar's daughter Eliza Hasterling helps an older viscount after he falls at a ball, his son Lord Giles Stratham is suspicious she's out to wed his widowed father! This season might be Eliza's last chance to find a husband and have the family she longs for, but she's no fortune hunter! In fact, it's the brusque but handsome Giles who sets her heart racing, but is that any basis for a good match?
"Awesome continuation of an amazing historical romance series." —Sandra, Wurmanm Fresh Fiction
---
Coming Soon
LEAST LIKELY TO WED
Lady Margaret D'Aubignon, the feisty sister of Crispin D'Aubignon, Viscount Dellamont, hero of THE RAILWAY COUNTESS, was banished to the country during her first season for refusing the marry the man her father had chosen.
When a small bequest invested in railway shares by her brother results in a spectacular return, the now financially independent Maggie defies her father and returns with her mother to London. She's determined to help the two good friends from her debut Season achieve similar freedom. With no money of their own to invest, the girls will have to marry—but marry wisely. Having been ruled all her life by her controlling father, Lady Maggie schemes to wed her friends to congenial, wealthy commoners who lack her father's autocratic nature and who are elderly enough to soon leave her friends rich widows in control their own destiny.
HER SEASON WITH THE FORBIDDEN EARL: MAY 2024
Assured she can now avoid being trapped into marriage to a husband who could try to control her as her father had, Lady Margaret D'Aubignon intends to enjoy her independent life in London. Her goal now is to help her best friends reach the same state of independence by wedding elderly men who will leave them wealthy widows in full control of their lives. While sizing up potential matrimonial candidates, she asks the opinion of Julian Randall, the Earl of Atherton, who helped her escape the attentions of the man her father tried to marry her off to during her disastrous debut Season. Once, when she thought she'd be forced to marry, she'd briefly considered the widowed earl as a candidate before concluding he was too young, healthy and titled to meet her qualifications.
Amused and initially a bit insulted by Maggie's treatment during her debut Season, with no desire to remarry, Julian soon settled into the role of her friend. Happy to help her avoid a forced marriage, he was pleased to see her return to London, triumphantly independent. Not at all approving her quest to marry off her friends, he nonetheless enjoys their meetings, trying to ignore the strong attraction he's felt for Maggie from the first moment he saw her. Telling himself that he's too old for her, he also suppresses his growing affection for her.
Maggie, too, has been denying the attraction she's felt from the beginning. But when in a moment frustrated anger, Julian alienates Maggie, he discovers that he can no longer deny how important she's become to him. And then must convince a wary Maggie to admit her own feelings and realize that marriage to someone you love is not a trap, but a haven.
Works in Progress
Julia is beginning work on the first book of a new series, tentatively entitled "The Unexpected Heirs." Three soldiers who bond after the storming of Badajoz expect to live quiet lives back in England if they survive the war. Instead, each finds himself unexpectedly heir to a title, with the duties, responsibilities—and problems that entails.
The first book, "The Unexpected Duke" will feature Lieutenant Hartley Charles Edmenton, who is recalled from the Peninsula following the untimely death of his cousin, the Duke of Fenniston. Hart's father, youngest son of the previous duke, had been estranged from his family after marrying the daughter of a Scottish gentleman. With Hart having two uncles senior to his father and the dukedom's heir having a son his own age, he never expected his branch of the family to inherit the title. But after the deaths of the older generation and the untimely passing of his cousin, he finds himself the new presumptive heir—most reluctantly. His few visits to the ducal estate while growing up left him with bitter memories of the condescension and scorn expressed toward the Scottish-transplanted branch of the family. Pressed to his duty by his friends and commanders, he arrives back at the estate to be greeted by the sister of the bereaved duchess—who displays all the condescension and scorn he expected. Suspecting part of that scorn arose from her overhearing him using a heavy Scottish brogue to dismiss his Scots batman, he decides on the spot if they are expecting an uncouth Scottish soldier, he's happy to play the part.
Widowed Claire Hembleton took refuge with her younger sister, the Duchess of Fenniston, after her husband's death. Soon, as she had all the years of their growing up, she finds herself assuming her sister's burdens, running the household, settling disputes, and even checking on progress around the estate. She's deeply conflicted about her brother-in-law, whom she once secretly loved, resentful of the uncouth stranger who's arrived to take his place, and as a widow with little money of her own, worried about what the new duke's installment will mean for her place in the world. But in the meantime, as she has for the last two years, she'll take upon herself one more duty for the estate--to try to groom the newcomer into becoming a duke worthy of his title.
Check here for progress on this and other titles in the series!
---
All Books
---
Books by Series
The Least Likely to Wed Series
---
The Heirs in Waiting Series
---
The Cinderella Spinsters Series
---
Sisters of Scandal Series
---
Hadley's Hellions Series
---
Ransleigh Rogues Series
Four cousins, best friends through childhood and university, whose destinies are forever altered by war and the love of one remarkable woman…"Magnificent Max", "Wagering Will", "Ingenious Alastair" and "Dandy Dom"
---
The Wellingfords Series
---
Regency Silk and Scandal Series