UK Readers Tea Room
Available Now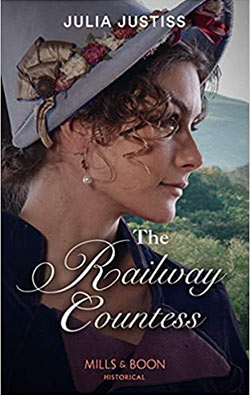 She didn't want to marry…
Least of all a viscount!
Marcella wants to avoid marriage and continue using her mathematical expertise to help her railway engineer father—but her mother insists on her having a season.  At her first ball, Marcella's relieved to see someone she knows—railway investor Crispin D'Aubignon.  Conversing with the viscount is safe, for she is as off-limits to him as he is to her…except that is only increasing the fascination.
Heirs in Waiting…
One day these Oxford gentlemen will inherit estates, titles and wealth.
But for now, they're forging their own paths in life…and love!"
Coming Soon
Three Oxford friends with stellar destinies ...three men who mold the present as they await a future of wealth and prestige.
Waiting in the wings is never easy, whether one carries the responsibilities without the authority, or is shut out and must find one's own way. But forging ahead on one's own means encountering exceptional women who would never be found at a ton ball...
THE EXPLORER BARONESS - NOVEMBER 2021
Gregory Lattimar is heir to Baron Lattimar (and brother to Pru and Temper, from A MOST UNSUITABLE MATCH and THE EARL'S INCONVENIENT WIFE.) Since leaving Oxford, Gregory has had to take over the running of the Lattimar estates, a job his reclusive collector father has simply ignores. Checking up on the sources of the antiquities the baron spends vast sums on, Gregory encounters Charis Dunford, the free-spirited daughter of an adventurer who travels the world, selling in a small London shop some of objects he collects in order to fund his journeys. Gregory expects to encounter, if not deference, at least cooperation from the lady who runs the shop—certainly not a dressing down for his ignorance about the treasures her father discovers. Committed to restoring a family reputation already tarnished by his notorious mother and his unconventional sisters, Gregory has pledged to marry an eminently proper Society maiden. The last thing he needs is to find himself captivated by a shopkeeper...
Works in Progress
With the final book in the HEIRS IN WAITING series completed, Julia is working on ideas for her next trilogy.
---
All Books
---
Ransleigh Rogues Series
Four cousins, best friends through childhood and university, whose destinies are forever altered by war and the love of one remarkable woman…"Magnificent Max", "Wagering Will", "Ingenious Alastair" and "Dandy Dom"