UK Readers Tea Room
Available Now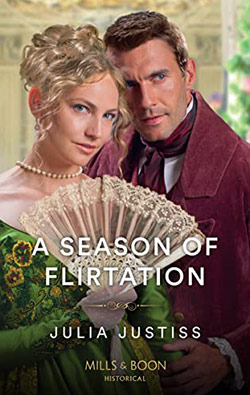 A fun foray into the London Season
Her lessons in flirtation…
Could work too well!
When Lady Laura Pomeroy offers to give her friend lessons on surviving the Season, she doesn't expect her friend's brother to join! Banker Miles Rochdale is dubious of the aristocracy and clearly thinks Laura is shallow and silly. Frustratingly, mathematical genius Laura finds herself attracted to him and enjoys challenging his assumptions. But, as a marquess's daughter, there's no point impressing Miles because she'll never be allowed to marry someone in the trade…
LEAST LIKELY TO WED
Lady Margaret D'Aubignon, the feisty sister of Crispin D'Aubignon, Viscount Dellamont, hero of THE RAILWAY COUNTESS, was banished to the country during her first season for refusing the marry the man her father had chosen.
When a small bequest invested in railway shares by her brother results in a spectacular return, the now financially independent Maggie defies her father and returns with her mother to London. She's determined to help the two good friends from her debut Season achieve similar freedom. With no money of their own to invest, the girls will have to marry—but marry wisely. Having been ruled all her life by her controlling father, Lady Maggie schemes to wed her friends to congenial, wealthy commoners who lack her father's autocratic nature and who are elderly enough to soon leave her friends rich widows in control their own destiny.
BOOK TWO: THE WALLFLOWER'S LAST CHANCE SEASON September 2023
Quiet and unassuming Eliza Hasterling, daughter of a clergyman with numerous offspring, has never been able to refuse a plea for help, to the irritation of her good friends Maggie and Laura, who feel her family takes advantage of her. Rescued from tending the latest ill family member and brought back into the Season's activities at her friends' insistence, Eliza dubiously agrees to consider Maggie's matrimonial candidates, even though her secret wish is to wed a kind young man who will give her children. When at a ball, she comes to the aid of an older gentleman, sparing him embarrassment and helping him recover from an attack of coughing, the widowed Viscount takes an immediate interest in his gentle rescuer. However, the Viscount's son, Lord Stratham, is immediately suspicious of the almost indigent young lady who has ingratiated herself with his kindly father. Suspecting she is a scheming fortune-hunter, the baron tries to prevent his father from pursuing Eliza. Outraged by the baron's insinuations, the normally soft-spoken Eliza finds herself standing up to the baron, even as she tries to discourage the Viscount and concentrate on Maggie's preferred matrimonial candidates. Meanwhile, Stratham tells himself he must keep close tabs on the young lady so she cannot secretly entangle his father. Which seems like an excellent plan…until he begins to find the lady all too attractive himself.
BOOK THREE: working title ELUDING THE EARL
Assured she can now avoid being trapped into marriage to a husband who could try to control her as her father had, Lady Margaret D'Aubignon intends to enjoy her independent life in London. Her goal now is to help her best friends reach the same state of independence by wedding elderly men who will leave them wealthy widows in full control of their lives. While sizing up potential matrimonial candidates, she asks the opinion of Julian Randall, the Earl of Atherton, who helped her escape the attentions of the man her father tried to marry her off to during her disastrous debut Season. Once, when she thought she'd be forced to marry, she'd briefly considered the widowed earl as a candidate before concluding he was too young, healthy and titled to meet her qualifications.
Amused and initially a bit insulted by Maggie's treatment during her debut Season, with no desire to remarry, Julian soon settled into the role of her friend. Happy to help her avoid a forced marriage, he was pleased to see her return to London, triumphantly independent. Not at all approving her quest to marry off her friends, he nonetheless enjoys their meetings, trying to ignore the strong attraction he's felt for Maggie from the first moment he saw her. Telling himself that he's too old for her, he also suppresses his growing affection for her.
Maggie, too, has been denying the attraction she's felt from the beginning. But when in a moment frustrated anger, Julian alienates Maggie, he discovers that he can no longer deny how important she's become to him. And then must convince a wary Maggie to admit her own feelings and realize that marriage to someone you love is not a trap, but a haven.
Works in Progress
With rewrites complete on Eliza's story, THE WALLFLOWER'S LAST CHANCE SEASON, Julia is working on the final book of the LEAST LIKELY TO WED trilogy, Lady Maggie's friends-to-lovers entanglement with Julian Randall, Earl of Atherton.
---
All Books
---
Ransleigh Rogues Series
Four cousins, best friends through childhood and university, whose destinies are forever altered by war and the love of one remarkable woman…"Magnificent Max", "Wagering Will", "Ingenious Alastair" and "Dandy Dom"