One Candlelit Christmas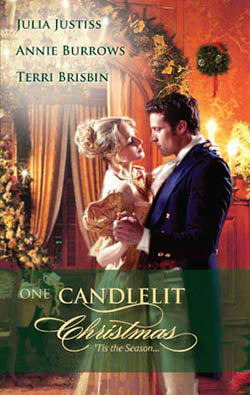 November 2008
Christmas Wedding Wish by Julia Justiss
Characters: Meredyth Wellingford & Allen Mansfell
Disenchanted with empty-headed society debutantes, dashing gentleman Allen Mansfell decides that, if he must marry, he will choose a lady whose mind and heart he'll have to win over—a lady like Miss Meredyth Wellingford. But for Merry, finding true love will take a miracle….
The Rake's Secret Son by Annie Burrows
Before Carleton Tillotson left Nell, the rebellious rake broke her heart. Now he is back, just in time for Christmas, and Nell can't hide her secret any longer—Carleton's the father of her son!
Blame It on the Mistletoe by Terri Brisbin
Julia Fairchild has loved Iain MacLerie forever—but the boy she once knew is now a hardened and aloof man. Amid the festivities and warm cheer of yuletide, can Julia melt Iain's guard and ignite the spark that continues to burn between them…?
"Well-written, poignant and densely plotted, this enthralling Regency novel is another example of Ms. Justiss's fine storytelling talents. Moving, engrossing and charming, Christmas Wedding Wish is a joy to read!"
~Cataromance
"Justiss's writing sparkles with warmth, charm, flair and style, her heroines are intelligent and resourceful and her heroes valiant, gorgeous and absolutely irresistible. Readers will love this highly sensual tale of unexpected Yuletide seduction!"
~Pink Heart Society
"Miracles, love and forgiveness shine brightly in this trio of lovely holiday stories that capture the atmosphere of the era with three-dimensional characters and colorful backdrops."
~Romantic Times BOOKreviews Magazine
"The warmth and love of the holiday season are splendidly captured in this trio of expertly crafted, Regency-set novellas…Justiss' "Christmas Wedding Wish" is richly emotional."
~John Charles, Chicago Tribune One Minute Reviews
CHAPTER 1
"Merry! Merry, they're here! Come quickly!"
From the dining room where she was supervising the footmen placing another leaf in the long table, Meredyth Wellingford heard her younger sister's urgent voice summoning her to the entryway. "Coming, Faith" she called.
A lilt in her step, Meredyth smiled as she walked to the front hall. How she loved the holidays! The scent of greenery adorning stairs and mantles mingling with the spicy tang of simmering wassail and the odor of roasting meat; mistletoe kissing balls and sharp-edged holly; carols sung around the hearth before the blazing Yule log. But especially, she loved having her family at home, the siblings gathered once again under Wellington's roof as they had been for all their years growing up.
The first to arrive should be her younger brother Colton returning from Oxford with his best friend Thomas Mansfell. Since Wellingford was on the way from university to his friend's home farther north, Thomas was a frequent visitor, normally spending a few days with them each time the boys made their way to and from school.
Just as Meredyth met her sister in the entry hall, they heard boots tromping up the front steps, followed by a sharp rap at the wide front door that Twilling, their old butler, hastened to throw open.
"Faith! Merry!" Colton cried, sweeping them into a hug as they ran to greet him. "How good it is to be home!"
"How good it is to have you," Merry replied, an ache in her heart as she stepped back to inspect the youngest member of the Wellingford clan. With their mother having never really recovered after his birth, Meredyth and her older sister Sarah had tutored and cared for Colton all of his life before he left for school. In place of the smiling, eager boy she'd sent away to Eton now stood a young man taller than she was, his burnished brown locks highlighted with gold, his blue eyes glowing. Her little brother was becoming a handsome young man, Meredyth realized with a shock.
"The hall certainly looks festive," another masculine voice said, pulling her from her contemplation of Colton.
"Thank you, Thomas, and welcome," she said, turning her attention to her brother's friend. "You are planning on staying for a few days before journeying home, I hope! I've had your usual room prepared."
"Oh, yes, do say you'll be staying!" Faith interposed. "It is so agreeable to see you again."
"Good to see you too, brat," Thomas replied, giving one of Faith's gold curls a careless tug before turning back to Meredyth.
"I should love to rest here for a few days before returning to the rigors of Christmas at the Grange. And I hope you don't mind, but I took the liberty of telling my brother Allen that he could stay here as well. He arrived from London to join us on the trip north just as Colton and I were leaving Oxford."
"Of course he's welcome," Merydth replied. "You've spoken of him so often, although we've never met, I feel I know him already." Indeed, over the years Thomas had frequently recounted the exploits of the older brother he admired, his expertise at riding and fencing, his service as a dashing young subaltern carrying messages for Wellington during the Waterloo campaign, the expertise with which he'd taken over the management of the family estates.
Thomas grinned "I'm glad! It would have been most embarrassing to have to send him on his way alone! He stopped to see about the horses—but here he is now." He gestured to a tall, dark-haired gentleman whom Twilling was just admitting into the hallway.
"Ladies, may I present my brother Allen? Allen, here are Merry and Faith Wellingford, two of Colton's sisters."
"Miss Faith, Miss Wellingford, a pleasure!" the newcomer said, bowing over their hands in turn. Addressing Meredyth, he added, "I've heard so much about Wellingford from Thomas, I'm delighted to visit at last—if you are certain, as he insisted, that having an extra guest foisted upon you without notice won't be an inconvenience."
As the gentleman straightened, Meredyth barely suppressed a gasp. Unlike her fledgling brother, Allen Mansfell was a man already fully mature—and a strikingly handsome one. Though Meredyth was tall for a lady, the visitor towered over her. Sable brown locks brushed the forehead of his square-jawed, slightly smiling face, while eyes of an arresting green captured her gaze, making her feel for an instant as if the two of them were the only occupants of the hall.
A bit disconcerted, she dropped her eyes, letting her appreciative gaze travel from his broad shoulders down a trim torso to muscled thighs well-displayed by his chamois riding breeches. When, cheeks pinking, she forced her eyes back up to his, a tingle of attraction sizzled through her, stronger than anything she'd felt since the death of her fiancé James a heartbreak ago.
Shaking her head, she tried to re-gather her wits. "If you've listened to what Thomas says about me, I'm surprised you dared venture to the house."
He laughed, that disturbing, shiver-inducing stare still fixed on her. "I assure you, everything he recounted was most complimentary."
"I hope you left us some decorating to do," Colton said, glancing around the garland-hung hallway. "After being cooped up with musty old books for a term, Thomas and I are keen to ride about the countryside."
"Faith and I began with the entryway, but haven't progressed much further. We shall have need of you gentleman to fetch in more pine, holly and mistletoe. I thought we'd leave some of the gathering until Sarah, Elizabeth and Clare arrive with their clans. Riding out with you should amuse the children."
Colton grinned at her. "That's Merry, already managing everyone and half the group aren't even here yet."
"She is an excellent manager," Thomas pointed out. "Viewing Wellingford now, Allen, you cannot imagine what it looked like when I first visited here! The manor in disrepair, cottages falling into ruin, fields lying fallow. Merry's done a wonderful job of refurbishing the house and farms and seeing the land brought back under cultivation."
Were Thomas not almost as close to her as a sibling, Meredyth might have been embarrassed by his bald description of the sorry condition of Wellingford at the time of their father's death. As it was, knowing that via Thomas his brother Allen would be fully aware of how badly their gamester father had neglected Colton's inheritance, she felt no need to explain or apologize. "Time, a competent estate agent and an influx of funds can accomplish a great deal," she replied.
"Having wrestled with the upkeep of Papa's properties, Miss Wellingford, I am well aware that it takes much more than those to keep a property in good heart," Allan said. "The land and farms we rode through looked exemplary and this house is lovely. Your hard work is quite evident."
"Oh, indeed!" Colton interposed. "Merry is so excellent a manager, I believe I shall keep her on when I marry and return to Wellingford for good."
"I doubt your bride would care for such an arrangement," Meredyth replied tartly, feeling her face heat. With the blunt insensitivity of a young man, she knew Colton didn't realize he'd just branded her as his spinster sister, well and truly on the shelf. Which, of course, she was, but 'twas not a fact she appreciated his pointing out in front of the very attractive Mr. Mansfell.
Though some eight years senior to the seventeen-year-old Thomas, Allen Mansfell must still be at least two years younger than she. Her discomfort intensified by that lowering thought, Meredyth told herself sternly that she must get over the unseemly sensual response he'd sparked in her.
Noting from her expression that her sister was piqued at being left out of the conversation—and conscious of a sudden need to escape Allen Mansfell's too-compelling presence, Meredyth said, "Faith, why don't you take our guests into the front parlor? I'll have Twilling bring in some spiced wine while I see about preparing your rooms."
Turning to Mr. Mansfell, she added, "I'll have your chamber ready shortly. If there is anything I can do to make your stay at Wellingford more comfortable, please don't hesitate to ask."
To her surprise, Allen took her hand and bowed over it. "I'm sure you will make me comfortable indeed," he murmured, the warmth of his voice and the heat of his gloved hand sending another little shock through her.
Hastily withdrawing her tingling fingers, Meredyth curtseyed and turned away, acutely conscious of his gaze upon her back as she ascended the stairs.
Escaping from his view down the hallway, Meredyth proceeded to the guest wing to inspect the room she meant to assign Allen, needing to determine if anything more than fresh linens would be needed. As her gaze lingered on the large high bed, she recalled Mr. Mansfell's velvet-voiced remark about how comfortable she would make him. A surprisingly intense flush of heat suffused her body.
She was being ridiculous, attributing to his idle remark an innuendo a gentleman would never direct toward a gently-born spinster. 'Twas bad enough she'd blushed like a schoolgirl under his gaze. She'd best get hold of herself around him before she did something that alerted him to the effect he had upon her. The thought of him realizing it and reacting with distaste-or even worse, pity--was too humiliating to contemplate.
Fortunately, he would only be at Wellingford for a few days. With the rest of the family arriving any time now, she'd be too busy overseeing meals, lodging and entertainment for her sisters, their spouses and children to reflect on the mesmerizing effect of a pair of vivid green eyes or the quivering in her belly produced by a handsome face and a virile physique.
It wasn't as if she'd encountered no attractive men in the years since her engagement ended. What was it about Allen Mansfell that sparked her body to a sensual awareness she'd thought submerged for good after James's death?
The dull ache that had replaced the first searing pain of losing her fiancé throbbed in her chest. Swallowing hard, she drifted to the window, staring sightlessly down at the winter garden as the memories overtook her.
How in love they'd been! How vividly she recalled the excitement of kissing him, the way she'd felt as if she were melting from the inside out when his tongue caressed hers and his strong hands fondled her breasts. Not for the first time, she regretted the sense of honor and responsibility that had made them curtail those thrilling explorations short of complete fulfillment.
They'd have all the time in the world to enjoy each other when he returned from his posting in India, James had promised as he gently pushed her away. Drawing a finger over her kiss-swollen lips, he'd pledged to pleasure every inch of her once she was his bride, when they need no longer fear that their joining might create a child.
That last night before he left she'd been tempted, oh so tempted, to draw him back into her embrace, rub her breasts against his chest, fit her body around the hardness in his breeches and coax his lips open, touching and teasing until his control broke and he took her then and there down the path to ecstasy. Only the knowledge that conceiving his child would mean disaster had stopped her.
Faced now with the probability that she'd never bear a child of her own, she wasn't so sure she'd made the right choice.
It wasn't that she'd set her face against marriage. Of course, for the first year or so after losing James she'd not thought it possible she would ever wish to wed anyone else, but time had worn away that certainty as it had muted her grief. In the intervening years, the necessity of remaining at Wellingford to tend her dying mother, followed by a succession of other needs and duties, had kept her here, far from the ballrooms of London where she might have found another love.
Not that it was completely impossible she might yet marry. She'd go to London with Faith in the spring, accompany her little sister to all the events of the Marriage Mart. But by now almost ten years older than her sister and the other girls making their bows, she would likely be consigned to wearing caps and sitting with the dowagers.
Besides, unlike many of the maidens soon to join Faith in the drawing rooms of society, Meredyth cherished no dreams of wedding for wealth or title. She'd already sidestepped the rich neighbor who'd come wooing, wishing to join her dowry lands with his. Gently rebuffed an old family friend, a widowed viscount looking for a new mama for his clan. Possessed of a valued place among her family, a budding brood of nieces and nephews to spoil, land and a dower house in which to live once Colton brought home a bride to be the new mistress of Wellingford, she would not turn her heart, her worldly possessions and her future over to a husband in exchange for anything less than a love as powerful as that she'd felt for James.
Turning to give the bed one last lingering glance, Meredyth sighed and walked back out. Despite Allen Mansfell's ability to make her senses zing, demonstrating that passion burned within her still, for a lady as long in the tooth as Meredyth Wellingford, finding true love again would take a miracle. 
Savoring a glass of spiced wine in the parlor below, Allen Mansfell propped an elbow against the mantle and looked on indulgently as Miss Faith Wellingford tried—with no success—to flirt with his brother Thomas, who alternately teased and ignored her while discussing with Colton a proposed hunting expedition for the morrow.
A pretty enough child, Miss Faith resembled her older sister Elizabeth, said to be beauty of family, who'd recently married his friend Hal Waterman. With her lovely face and artless charm, Miss Faith would probably have little problem finding a suitable husband next spring when, as she earnestly informed him, she'd be making her debut.
At the thought, Allen suppressed a quiver of distaste. Next spring would probably find him back in London as well. Though after Susanna's faithlessness, part of him recoiled at the thought of ever offering his hand and name to another lady, once his initial hurt and fury abated, he knew the reason he'd first sought her out—a desire to marry, settle down on his estate and delight his mama by providing her with grandchildren--would propel him back to Marriage Mart again. Not that he had any intention this time of risking his heart.
Unfortunately, the London season provided the most convenient and comprehensive gathering of maidens of suitable breeding and lineage from which a gentleman might find a wife. Though 'twas ludicrous to think of choosing an infant like Faith.
It was Susanna's confident self-assurance that had first caught his interest last spring. Unlike most of the other maidens, she was able to converse intelligently—and flirt alluringly--instead of falling into giggles or blushing at every word he uttered. To say nothing of the blatant promise of her lush body…
Angrily he thrust away the memories. He'd raged and mourned long enough. He would not allow her perfidy to cast a damper over his spirits any longer.
If he were compelled to wade into waters of Marriage Mart once again, he thought, Miss Faith's sister Meredyth was much more to his taste. Tall, slender, her hair a paler blonde that the gold of her little sister's, her eyes gray-blue rather than cerulean, she carried herself with a graceful elegance. Then there'd been that surprising spark of awareness accompanied by a jolt of warmth that fairly burned through his gloves when he'd foolishly uttered that naughty remark about how comfortable she could make him. Elegance and—unlike Susanna—integrity in one subtlety sensuous body made for quite an arresting combination.
Nor had he been mouthing empty phrases when he'd complimented her on the management of Wellingford. He'd been genuinely impressed by the well-tended fields, fences and cottages past which they'd ridden, their excellent condition all the more impressive considering in what a shambles the entire estate had been just a few years ago.
Randolph Wellingford's profligate habits, addiction to gaming and shocking neglect of his estate had been quite the on-dit when Allen first left Oxford for London. Indeed, many at his club had murmured 'twas a blessing for the family when the man met an early death, riding out half-foxed one cold winter morning in an attempt to win some ridiculous wager. Meredyth Wellingford must be intelligent, diligent and a thrifty manager to have accomplished so much at Wellingford.
The thought struck him then, as appealing as it was sudden. If he must marry—and marry he must--why not choose a more mature lady, one he knew by reputation to possess a sterling character and by personal observation to already have the skills necessary to be mistress of a large estate? An older lady who might be as amenable as he to a marriage based on similar tastes and mutual respect. A lady whose subtle attractiveness promised satisfaction of his appetites without the torment of lust and jealousy Susanna had roused in him.
A lady who just happened to be planning to accompany her little sister to London for the upcoming Season.
Allen swallowed the last of his wine and set down his glass, smiling. He'd use this few day's sojourn at Wellingford to become better acquainted with his charming hostess. And if he continued to be as impressed—and titillated—by Meredyth Wellingford as he'd been upon their first meeting, he might just have found the answer to his marriage dilemma.