Contest: Grab a Copy of the Latest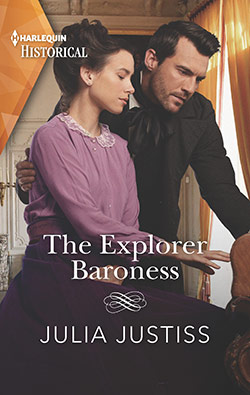 At long last, the final Lattimar sibling gets his story in THE EXPLORER BARONESS. In honor of that great event and in tribute to the Middle East, where I was privileged to live for several years, I've paired Gregory Lattimar with perhaps the most unusual heroine I've ever written, expatriot Englishwoman Charis Dunnfeld. A free-spirited woman who's assisted in her family's antiquities business, when not traveling with her vagabond father, she's lived most of her life in Constantinople and Baghdad. Temporarily stranded in the strange-to-her world of London, she's persuaded by her influential relation, Lady Sayleford, to enter Society while she waits for her father to recover from an illness so they can be off on their travels again..
Greg meets Charis while trying to settle the bills of his reclusive father, one of the Dunnfield firm's most acquisitive clients. The attraction is strong and immediate, but both resist its pull. Greg needs to rehabilitate his family's scandalous reputation by marrying a conventional woman of impeccable virtue, and Charis, if she does marry, would choose a man willing to join in her adventures—not a baron's heir who is tied to land and responsibility in England.
His mother's good friend, former courtesan Ellie Parmenter, has long had a soft spot for Christopher, one of the few gentlemen who's treated her like a lady despite her ruined reputation. Though she is now beyond the pale, she was raised in a genteel family.  With the encouragement of Christopher's mother, she agrees to tutor Christopher in how to court a proper "virtuous virgin."
Charis attempts to distract herself from Greg's appeal by helping him search Society for a proper wife. But the more time they spend together, the harder it is for Greg to see anyone beyond the unusual, enticing, unforgettable Charis…
For a chance to win one of four copies of THE EXPLORER BARONESS, enter below: