Birthday Treasures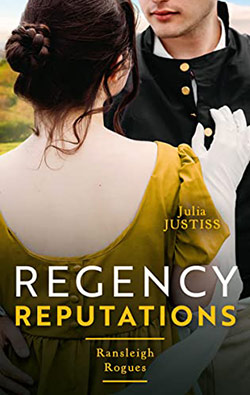 Trees leafing out, flowers beginning to bloom, days that are more reliably warm and breezy—hoorah, it's MAY! It's also Julia's birthday month, and to celebrate, she's giving away three copies of the two-in-one REGENCY REPUTATIONS, which includes Ransleigh Rogue books THE RAKE TO RESCUE HER and THE RAKE TO REVEAL HER.
In THE RAKE TO RESCUE HER, Alastair Ransleigh's heart still aches for the woman who'd pledged to marry him and then wed a duke instead. When, years later, he sees Diana, Duchess of Graveston, for the first time since she jilted him, to his dismay, he finds her appeal is as strong as ever. Trying to combat his feelings, he makes her a shockingly insulting offer…the chance to become his mistress. But even more shockingly, she accepts!
But the widowed duchess is nothing like the bold, passionate girl Alastair once loved. Years of suffering at the hands of a cruel husband have taken their toll. And as Alastair resolves to save Diana from the damage of the past, their chance meeting turns feelings of revenge to thoughts of rescue…
In THE RAKE TO REVEAL HER, hero Dominc Ransliegh has lost more than his arm in battle—he's lost his reason for living. Returning to his family seat, he shuns all society. If only his beautiful, plainspoken tenant, Theodora Branwell, wasn't so hard to ignore…
Since her fiance's death on the battlefield, Theo's devoted herself to caring for soldiers' orphans. She's powerfully attracted to Dom, but knows all too well the consequences of temptation. Is Theo, who's survived so much, brave enough to reveal her secret to her handsome, wounded neighbor?
For a chance to win a copy of REGENCY REPUTATIONS, enter below: