Contest: The Last Lattimar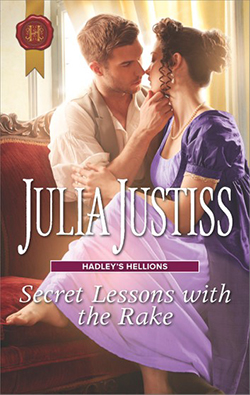 Over several years, I've penned the stories of all the Lattimar siblings.  First came younger brother Christopher, who falls for former courtesan Ellie in SECRET LESSONS WITH THE RAKE, the last of my HADLEY'S HELLIONS series.  Then it was twin sisters Prudence and Temperance in A MOST UNSUITABLE MATCH and THE EARL'S INCONVENIENT WIFE in my SISTERS OF SCANDAL series.  Next month, Gregory, eldest brother and heir, gets his turn in THE EXPLORER BARONESS.
In honor of finishing up the Lattimar sibling stories and my HEIRS IN WAITING series, this month I will give away two copies of the first book, SECRET LESSONS.  Though after witnessing his parents' disastrous union, Christopher isn't much interested in marriage, with all his friends now happily wed, he thinks maybe he should at least make an attempt to find a wife.  Unfortunately, all his dealings with women have been with the muslin company.  He really doesn't know much about how to treat a gently-born lady.
His mother's good friend, former courtesan Ellie Parmenter, has long had a soft spot for Christopher, one of the few gentlemen who's treated her like a lady despite her ruined reputation. Though she is now beyond the pale, she was raised in a genteel family.  With the encouragement of Christopher's mother, she agrees to tutor Christopher in how to court a proper "virtuous virgin."
Unfortunately, the more time Christopher spends with Ellie, the more he finds her more attractive and interesting than any of the proper young ladies he's supposed to court.  Meanwhile, Ellie tries to rein in her feelings, knowing she can never considered a suitable candidate for the role of gentleman's wife. But sometimes, love has other plans…
For a chance to win one of two copies of SECRET LESSONS WITH THE RAKE, enter below: