Contest: Where it Began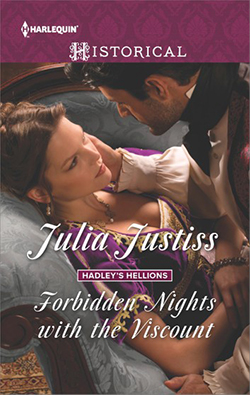 The stories of my last several series—THE HEIRS IN WAITING, THE CINDERELLA SPINSTERS, and THE SISTERS OF SCANDAL, all had their origin in the character of Lady Maggie, wealthy widow of a baron, daughter of an influential earl, who decides she wants more than an idle life of social engagements.  Passionately involved in politics, wanting to do more, Maggie forms the Ladies' Committee to involve equally committed women in writing letters and working on behalf of the reform movement, much like the heroes and heroines of the series which follow.  This month, Julia is giving away two copies of Lady Maggie's story, the one that started it all, FORBIDDEN NIGHTS WITH THE VISCOUNT.
After suffering the loss of her beloved husband, Lady Margaret Roberts has devoted herself to playing hostess for her Tory politician father.  She's sworn off the pursuit of passion…that is, until she meets Giles Hadley, brilliant young leader of the rival Whigs.
Bitterly estranged from his family, reluctant viscount Giles knows all too well the devastation of an unhappy marriage.  So while he is prepared to indulge in an illicit affair with the fascinating Maggie, he must beware, for this spirited lady awakens in him something even more forbidden—the desire to claim her as his wife.
For a chance to win one of two copies of FORBIDDEN NIGHTS WITH THE VISCOUNT, enter below: