Halloween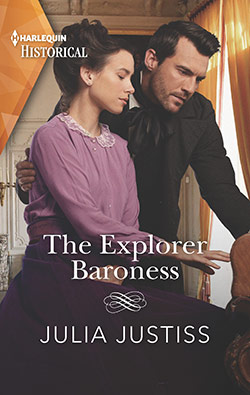 October brings Halloween, when you can dress up as whatever you choose—even daring-do superheroines! Most of us prefer to watch dangerous and exciting events from the sidelines or read about them.  But some people, like heroine Charis Dunnfield in THE EXPLORER BARONESS, lovesadventure and feels stifled and out-of-place in a traditional environment.
While she is marooned in London, waiting for her ill father to recover, she encounters Gregory Lattimar, handsome son and heir of a wealthy baron. As the sole remaining bachelor among his friends, Greg has started contemplating the once-unthinkable possibility of marriage—but his choices aren't completely unrestricted. To redeem the reputation of his scandalous family, he must marry a proper ton maiden of impeccable reputation.
The last thing this England-bound baron needs is to become intrigued by the unusual Charis, daughter of an antiquities dealer who spends most of her time traveling the world. But after getting to know the beguiling Charis, can any conventional English maiden measure up?
For your reading enjoyment, I'll be giving away three copies of THE EXPLORER BARONESS. To win a copy, enter below: