Unexpected Pleasures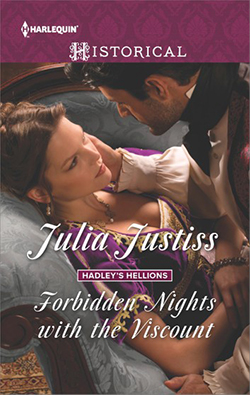 After the death of her beloved husband, Lady Margaret Rogers has occupied herself acting as hostess for her father, the Marquess of Witlow, a prominent conservative force in the Lords. When she meets Giles Hadley, a fiery Whig leading the Reform movement in the Commons, the sparks that fly between them aren't merely a result of their political differences.
Maggie is as drawn by the viscount's physical allure as she is by his energy and intelligence. Though she has no desire to wed again, she has sorely missed the delights of the marriage bed. Might the enticing Giles be the one to discretely provide the physical pleasure she craves?
But secret liaisons threaten to unlock more than passion--something even more dangerous and forbidden…new love.
For a chance to win one of two E-copies of FORBIDDEN NIGHTS WITH THE VISCOUNT, first book in the HADLEY'S HELLIONS series, enter below: