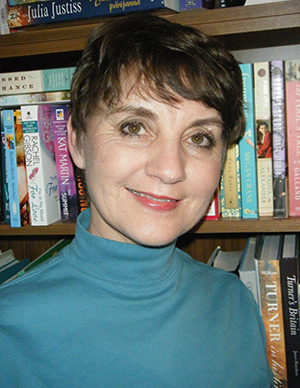 Meet Julia
Julia Justiss grew up breathing the scent of sea air near the colonial town of Annapolis, Maryland, a fact responsible for two of her life-long passions: sailors and history! By age twelve she was a junior tour guide for Historic Annapolis, conducting visitors on walking tours through the city that was a hotbed of revolutionary fervor. (Annapolis hosted its own tea party, dispensing with the cargo aboard the "Peggy Stewart," and was briefly capital of the United States.) She also took tourists through Annapolis's other big attraction, the United States Naval Academy. After so many years of observing future naval officers at P-rade and chapel, it seemed almost inevitable that she eventually married one.
But long before embarking on romantic adventures of her own, she read about them, transporting herself to such favorite venues as ancient Egypt, World War II submarine patrols, the Old South and, of course, Regency England. Soon she was keeping notebooks for jotting down story ideas. From plotting adventures for her first favorite heroine Nancy Drew she went on to write poetry in high school and college, then worked as a business journalist doing speeches, sales promotion material and newsletter articles. After her marriage to a naval lieutenant took her overseas, she wrote the newsletter for the American Embassy in Tunis, Tunisia and traveled extensively throughout Europe. Before leaving Tunis, she fulfilled her first goal: completing a Regency novel.
Children intervened, and not until her husband left the Navy to return to his Texas homeland did she sit down to pen a second novel. The reply to her fan mail letter to a Regency author led her to Romance Writers of America. From the very first meeting, she knew she'd found a home among fellow writers--doubtless the largest group of people outside a mental institution who talk back to the voices in their heads.
Here's Julia receiving her Golden Heart Award at the RWA National conference from one of her favorite writers, New York Times Best Selling author Jo Beverley
---
Mills & Boon Interview
Real name: Janet Justiss
Pseudonym: Julia Justiss
Birthday: May 16
Astrological sign: Taurus
On Writing and Reading…
What do you love most about being a writer?
Creating characters that will entertain and involve readers; setting them in a world that can for a few hours transport people (including me) to another time and place.
What do  you like least about being a writer?
Worrying that my next book might not be as good as my last or won't sell well enough for me to keep writing!
Do you have a favorite locale or setting for your novels? What is it and why is it your favorite?
All my books thus far have been set in the English Regency.  It's a glamorous era full of contrasts:  elegant ladies and gentlemen, rough sailors and highwaymen and smugglers, enormous conflicts both domestic and international, all wonderful backdrops against which to set that most fundamental of stories: the search by one man and one woman for true, everlasting love.
Which of the books you have written is your favorite?
That's like asking a mom which of her children is her favorite!  I suppose my favorite characters have been Hal Waterman, from Wedding Gamble and A Most Unconventional Match, and Tony Nelthorpe from Wicked Wager and the on-line read By Honor Bound.
What is your favorite recent Mills & Boon or Silhouette or MIRA title by another author?
That's as difficult as picking a favorite from my own books!  Since I love all the authors from the historical line, I'll just mention two authors I have followed for some years now, who have recent releases: Carla Kelly (Marrying the Captain) and Amanda McCabe (High Seas Stowaway).  For MIRA, I loved Deana Raybourne's two historical mysteries, Silent in the Grave and Silent in the Sanctuary.
What are your five all-time favorite books (with authors)?
Gone With the Wind by Margaret Mitchell
One Good Turn by Carla Kelly
Rogue's Wager by Loretta Chase
The Far Pavilions by M.M Kaye
Flowers from the Storm by Laura Kinsale
What one specific piece of advice would you give a would-be writer trying to kick-start a career?
Believe in your gift and be persistent.  The path to becoming and staying published is difficult, but if writing is all you really want to do, what makes you feel most fulfilled and happy, then keep at it, regardless of rejections and setbacks.
On Romance…
Describe the ultimate romantic meal.
A perfectly cooked steak and spicy salad served with fine wine by candlelight on a terrace overlooking the sea
What is your all-time favorite romantic movie?
The Colin Firth Pride and Prejudice
What is your all-time favorite romantic song or composition?
Beethoven's Third Piano Concerto
What is the most romantic gesture or gift you have received?
When my husband and I were engaged and I would fly up to visit him, arriving after a long harried work week (he worked in Newport RI and I worked in Baltimore, MD) he would have flowers and candles and a glass of wine in the bathroom so I could take a long relaxing bubble bath while he cooked me my favorite dinner.
How do you keep the romance alive in your relationship?
Never take each other for granted.  Take time to remind your lover how special he is to you.  A naughty nightie or a few bedroom surprises never hurt to keep the spark alive either!
What tip would you give your readers to make their lives more romantic?
Romance, like sensual excitement, is mostly in the mind.  If you want your life to be romantic, think romance!  Be alert for opportunities to make a romantic gesture; plan romantic evenings or getaways; pick up small gifts to give at unexpected moments.
Where is the most romantic place you've ever traveled?
Italy.  Lovers strolling hand in hand, wonderful wine, romantic arias sung by amateur virtuosos in courtyard and restaurants, flowers, mild weather, the coastal views off Amalfi and Naples, the soft lap of water along a Venetian canal by torchlight…
All About me…
Besides writing, what other talent would you most like to have?
I would love to be a virtuoso pianist so I could play all the Beethoven concertos!
Who is someone you admire and why?
My mom, who worked, raised three children and taught me a girl can do anything.
Do you have a good luck charm or superstition?
I have a coffee cup decorated with a sketch of a stack of 3 books that I bought when I got my first three-book contract.  I use it exclusively when I'm writing at home!
Share one of your favorite indulgences with us.
Dutch chocolate ice cream and strong coffee with a good book!
What quality do you most admire in a man?
Honor, which encompasses loyalty, fidelity, and doing what is right regardless of personal gain or preference.
What is the one thing you've always wanted to do, but never had the courage to try? 
I'd love to sky-dive, but I'm afraid of heights!
If you weren't a writer, what would you be?
A librarian, a bookstore owner or a gardener.
What quote or personal saying do you live by?  Who said it? 
Do as much good as you can to as many people as you can in as many ways as you can for as long as you can, said by Charles Wesley, founder of the Methodist movement.