The Wedding Gamble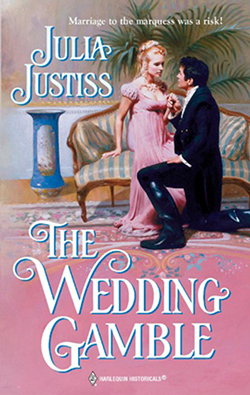 June 1999
THE WEDDING GAMBLE teams friends Nicholas Stanhope, Lord Englemere and Sarah Wellingford in a marriage of convenience. Nicholas will save Sarah from wedding a wealthy but unsavory villain to rescue her family from bankruptcy; plain, safe Sarah will give Nicholas the heir he requires with no threat of the heartache his unfaithful late wife caused him. But as Sarah's former love returns and her spurned suitor plots to destroy their marriage, these two prosaic partners discover that when one gambles on marriage, love holds all the cards!
Characters
Sarah Wellingford and Nicholas Stanhope, Marquess of Englemere
OUT OF PRINT. Look for it at your favorite used bookstore.