Christmas Keepsake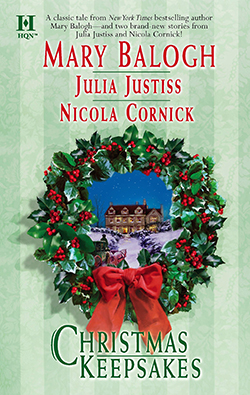 October 2005
'TIS THE SEASON FOR FALLING IN LOVE...
A Handful of Gold by Mary Balogh
Not only is Julian Dare dashing and wealthy, but he's the heir to an earldom. So what do you get a man who has everything? Innocent and comely Verity Ewing plans on giving Julian her heart—the most precious gift of all.
The Three Gifts by Julia Justiss
Critically injured during the war, reluctant new viscount Miles Hampden must find a wife to safeguard his family legacy. To ease the mind of a dying soldier she secretly admires, Edwina Denby agrees to a marriage of convenience. As Edwina nurses the handsome viscout to full recovery, love proves to be the elixir that heals all wounds!
The Season for Suitors by Nicola Cornick
After some close encounters with rakes in which she was nearly compromised into marriage, heiress Clara Davenport realizes that she needs some expert advice. And who better for the job than Sebastian Fleet, the most notorious rake in town? Inevitably, the tutelage doesn't go quite as planned, as both Sebastian and Clara find it difficult to remain objective when it comes to lessons of the heart!
"Edwina is a delightful combination of maturity, generosity, and vulnerability…Let The Three Gifts give your emotions a ride and a tug on your heartstrings with its tender love story."
~Jane Bowers, Romance Reviews Today
Look for it at your local used book store.