The Officer's Bride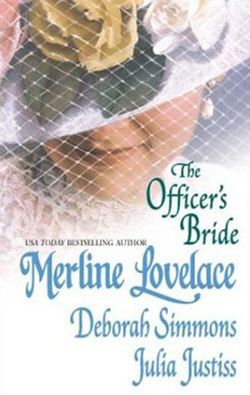 April 2001
Julia teams up with USA Today bestselling author Merline Lovelace and reader favorite Deborah Simmons in this anthology about three valiant soldiers from Dunbar's Dragoons who face their fiercest struggle--winning the woman they love...
In "An Honest Bargain," Audra Saybrooke, left alone and virtually penniless after the death of her soldier husband at Talavera, agrees at to a marriage in name only with childhood friend Lt. Bryan Langford. Delighted to rescue the woman he's secretly loved all his life, Bry feels sure in the few weeks it will take the army to reach winter quarters he'll somehow manage to convince Audra to make their temporary union permanent. But as he gradually discovers her marriage with his friend Jeremy was more nightmare than idyll, he realizes winning Audra's trust in so short a time will be the most difficult challenge he's ever faced.
"Excellent stories about men and war and the women who love them...a must read."
~JP, Rendezvous
"These love stories come alive at the talented hands of three of Harlequin's best historical authors..."
~Jean Mason, The Romance Reader
"Readers will be in for a treat--make that three treats, with THE OFFICER'S BRIDE...Bryan proves to have a purity of heart and devotion to Audra that truly makes him one of the nicest heroes I have read."
~Claudia Terrones, All About Romance
"A delightful marriage of convenience story...the characters were well drawn, the premise felt fresh, and a relationship that had you cheering for both protagonists all come together to make this a recommended read."
~Mona Montana, Reader To Reader
"THE OFFICER'S BRIDE offers three strong stories by three of Harlequin's finest writers...Julia Justiss is always able to tug at our heartstrings. This time she presents a most sympathetic heroine and the hero she so badly needs. "An Honorable Bargain" packs a lot of emotion in its 123 pages."
~Jane Bowers, Romance Reviews Today
Look for it at your local used book store.